Tuba Bach Week 3 – invoke Quartet
Saturday, September 28, 2019 — 7 PM
Sunday, September 29, 2019 — 4 PM
Big Rapids High School Auditorium
21175 15 Mile Rd, Big Rapids
Saturday, September 28,

11 AM 

 Lunch Bachs Family Concert at Three Girls Bakery (106 N Michigan Ave, Big Rapids, MI 49307)  
Please note the time change to accommodate the Ferris Homecoming parade.
This young string quartet out of Texas, recent NY Concert Artist
Guild winners, is breaking all sorts of traditional quartet "rules"
and playing "outside-of-the-box" by incorporating other instru-
ments in their quartet (mandolin, banjo) and experimenting with
forays into bluegrass, Americana, jazz, hip-hop and more.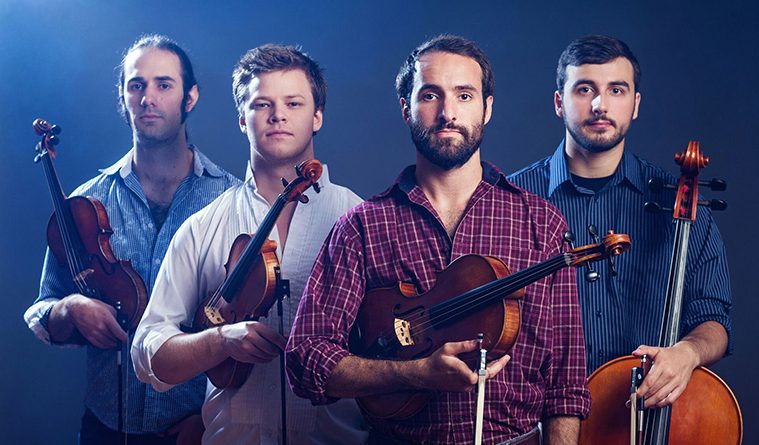 Described by one pretty important radio guy as "not classical…but not not classical" (David Srebnik, SiriusXM Classical Producer), invoke continues to successfully dodge even the most valiant attempts at genre classification. The multi-instrumental quartet's other not-nots encompass traditions from across America, including bluegrass, Appalachian fiddle tunes, jazz, and minimalism. Fueled by their passion for storytelling, Invoke weaves all of these styles together to form a unique contemporary repertoire, featuring original works composed by and for the group.
Most recently the Young Professional String Quartet in Residence at the University of Texas at Austin, Invoke has also participated in the Emerging String Quartet Program at Stanford, and been selected as Artist in Residence at Strathmore, the Emerging Young Artist Quartet at Interlochen, and the Fellowship String Quartet at Wintergreen Performing Arts. In 2018, the group was named a winner of the Concert Artists Guild Victor Elmaleh Competition in New York, New York, and won First Prize in the Open Category of the international chamber-arts competition M-Prize, in Ann Arbor, Michigan, as well as First Prize in the Coltman Competition in Austin, Texas.
Invoke has shared the stage with some of the most acclaimed chamber groups in the country, including the Ensō Quartet and the U.S. Army Field Band. Other professional highlights include a concerto appearance with the Brevard Sinfonia, a weeklong residency at the Stanford Pre-Collegiate Institute, and concerts as part of the NextNOW Festival at University of Maryland and Festival Amadeus in Montana.
Their 2015 debut release Souls in the Mud begins with original works that conjure images of America, including the fast-paced opening track "Travesty" and "The Trace" (inspired by bourbon whiskey). The third and title track, "Souls in the Mud," is an American transformation of a 16th century motet featuring banjo, mandolin and a bluegrass-influenced boot-stompin' finale. To round out the EP, Invoke accompanies a historic recording of a haunting traditional English ballad, and finishes with two compositions by prolific American composer Danny Clay.
Invoke's second EP Furious Creek, releasing in Fall 2018, will be their first record to include vocals. The title track explores the relationship between humanity and nature with an evocative chant bookending energetic instrumental interludes. A fast-paced tune, "Dogs," spotlights the banjo with a finger-picking, bluegrass-inspired undertow, and Karl's elegiac setting of the Walt Whitman, "O Captain! My Captain!" features Nick's recitation. The EP wouldn't be complete without a fan favorite closing number, Invoke's arrangement of the Stephen Foster classic, "Hard Times."
Besides performing original music, Invoke believes in championing diverse American voices through new music. Invoke's ongoing commissioning project, entitled American Postcards, asks composers to pick a time and place in American history and tell its story through Invoke's unique artistry. They premiered the first four of these postcards at the University of South Carolina in 2017 to a sold-out house. The 2018-2019 season will see the premiere of two new postcards, by Akshaya Avril Tucker and Jonathan Bingham.
In addition to the American Postcards, Invoke has performed and recorded numerous world premieres, including works by Joseph C. Phillips Jr., Armando Bayolo, and Geoff Sheil. The group's recording credits appear on bassist/composer Ethan Foote's solo album Fields Burning, singer/songwriter Marian McLaughlin's Spirit House, jazz/soul singer Rochelle Rice's EP Wonder, and many more.
Equally at home in a collaborative setting, Invoke has appeared with musicians from genres at complete opposite ends of the spectrum – from chamber rock powerhouse San Fermin, to indie sensation Never Shout Never, to DC beatboxer/rapper/spoons virtuoso Christylez Bacon.

This presentation is supported by the Arts Midwest Touring Fund, a program of Arts Midwest that is funded by the National Endowment for the Arts, with additional contributions from Michigan Council for Arts and Cultural Affairs and the Crane Group.